The overall health and well-being of our patients, physicians, and staff members is our #1 top priority at Achilles Foot and Ankle Center. (AFAC). We are closely monitoring the COVID-19 (coronavirus) situation for the health and safety of everyone at Achilles Foot and Ankle Center.
We are currently available in-office and telehealth appointments to new and established patients for their full foot and ankle care. To schedule an appointment today at any of our 5 convenient locations in Central Virginia, click here. We do offer same-day appointments too.
To continue to treat patients safely, we are:
Screening patients for symptoms, travel, or exposure to viruses prior to scheduling an appointment
Scheduling with increased time between appointments and limiting time spent in our lobby for social distancing
Heightened and repeated cleaning of surfaces
Limiting unnecessary visitors to our office (only one visitor per patient)
Physicians and clinical staff are to wear masks while interacting with patients
Offering telehealth visits to our established patients, when possible
Employee health screening before each shift begins
*Please Note* If you are ill or feeling unwell, it is best to stay home to prevent the spread of the coronavirus .
Achilles Foot & Ankle's business hours are:
Monday: 8:30am-5:00pm
Tuesday: 9:30am-6:00pm
Wednesday: 8:30am-5:00pm
Thursday: 8:00am-5:00pm
Friday: 8:30am-5:00pm
*Please Note* Each AFAC location is closed for lunch from 1pm-2pm.
We strongly encourage everyone to take the following precautions to prevent the spread of the cold, flu, or other viruses:
Wash your hands frequently with soap and water for at least 20 seconds
Use a hand sanitizer with at least 75% alcohol if hand washing is not possible
Stay home if you are ill to help reduce the spread of disease
Cover your cough/sneeze with your arm or a tissue, then dispose of the tissue – do not cover your cough/sneeze with your hands
Avoid touching your face with unwashed hands
Avoid close contact (within six feet) with anyone who is sick or showing symptoms
Clean and disinfect frequently touched objects (cell phones, pens, doorknobs, etc.)
Do not shake hands as a greeting
We must all be cautious of our own health and the health of our loved-ones and neighbors during this time.
Thank you for your patience and cooperation as we continue to monitor this situation for the health and safety of everyone at Achilles Foot and Ankle Center.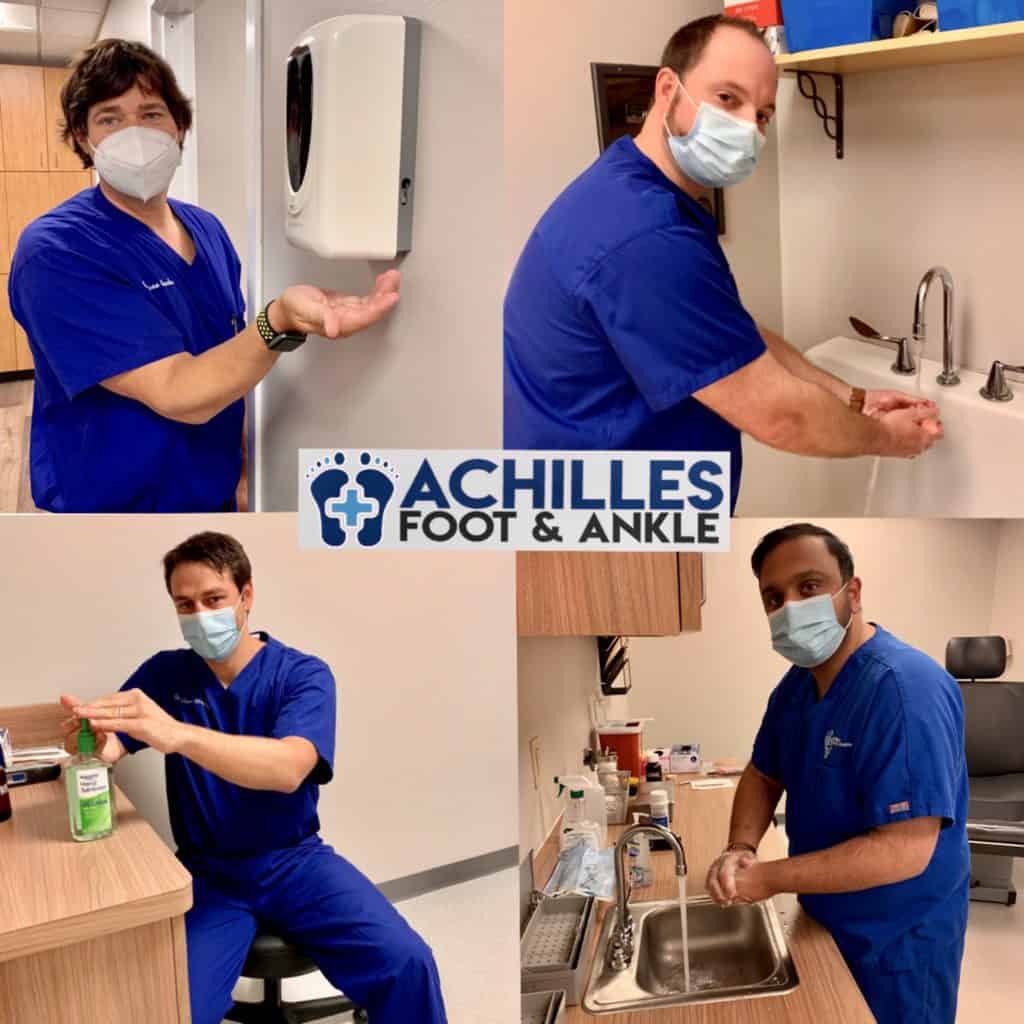 In picture – (top left) Dr. Ryan Vazales, (top right) Dr. James Baldwin, (bottom left) Dr. Aaron Bradley, (bottom right) Dr. Sunny Patel.